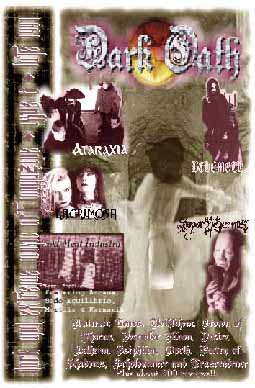 52 A4 pages, professionally printed and designed in black & white, glossy cover, written in English.
Featuring Interviews with...



• Ataraxia (Italy / May '97)
• Autumn Tears (U.S.A. / Aug. '97)
• Behemoth (Poland / Apr. 97)
• Bethlehem (Germany / May '97)

Cold Meat Industry Label Report:
• Roger Karmanik (Sweden / Aug. '97)
• Arcana (Sweden / Aug. '97)
• Mortiis/Vond (Sweden / July '97)
• Ordo Equilibrio (Sweden / June '97)

• Crown of Thorns (Sweden / May 1997)
• December Moon (England / May '97)
• Desire (Portugal / Aug. '97)
• Helheim (Norway / June '97)
• Poetry of Shadows/Isiphilon (Portugal / Aug. '97)
• Lacrimosa (Switzerland / Aug. '97)
• Opeth (Sweden / April '97)
• Scholomance (U.S.A. / July '97)
• Sopor Aeternus (Germany / May '97)
• Transcendence (Canada / July '97)

...plus about 300 reviews and a vast news section.

---


Here are some comments and reviews on Dark Oath Magazine #6...



'Dark Oath Magazine #6 - The best Dark Art/Obscure Metal information in Portugal
Joćo Monteiro - the Ed., never gets tired and I do admire his professional attitude towards the scene and the great work he is develloping all by himself. 52 pages of interesting reading in small print (no space was wasted), well written, with a superb lay-out and great photos whose brilliant adulteration (at times) only enhanced the real image. Hail. I surely don"t know how he manages to write so many things alone and this is surely a miracle of the still remaining underground strength... There are so many contacts and so many review in this great Mag that it is almost impossible to describe its vastness ! He did push himself over the limits with his reviews.. everything is just so perfect and one can actually get the whole picture of what a band souds like, even without having ever listend to it. Now I can be sure I wont be disapointed with Tartaros! (I am just afraid because you mentioned Cradle Joćo.. well I hope his voice willl be far beyond this!) Indepth interviews with: (...)! It was interesting to divide the reviews by sections in articles dedicated to each label: Napalm, Nocturnal Art, Solistitium, CMI, Avantgarde, etc. BUY OR DIE! I really advice this to my most faithfult and untiring clients because this has plenty of reviews on the bands I carry with my catalogue...'
Constance, Arcada Distributions/Andromeda Creations

We apreciated your work and especially the interesting interviews you did.
Vittorio Vandelli, Ataraxia

The magazine was COOL! I really enjoyed it so keep up the good work.
Stuart Ness, Blackend/PHD

Yes, I got you mag some time ago. It's extremely good and well written! I liked the interview with the Crown. Very good questions and not the usual stuff. Great!
Rolf, Black Sun Records

'It's finally available the 6th issue of the best zine in the national Underground, Dark Oath. Again, Joćo Carlos Monteiro has lived up to his standards and created another work of art dedicated to the international Underground. Wondering in between Metal and Gothic, Ethnic, Industrial and Electronic sonorities, the cream of the darkest side of the Underground scene is herein gathered. The reader can find plenty of news and contacts, over 300 reviews and interviews with (...), all of it wrapped in excellent lay-out and in an extremelly competent writing. (...)'
Blitz NewsPapper, 21st July 1998

Yes I recieved it - great stuff and much CMI - BRILLIANT!!!
Roger Karmanik, Cold Meat Industry

Yes, I received it 2 days ago - it's another great magazine! Thanks for all the positive Cold Spring mentions...
Justin, Cold Spring

I received the zine. It is excellent. Great job.
Ted, Dark Symphonies Productions/Autumn Tears

I think it's a nicely produced magazine, surely worth a reading. The lay-out is also pretty nice. Great job man.
Mauro Berchi, Eibon Records/Canaan

Thanks - we did indeed receive the magazine yesterday, and it's great (we're particularly pleased with the CD reviews. Cheers!!).
Candia, Inkubus Sukkubus

Your mag is quite interesting one. As a matter of fact quite close to a mag that I would edit, incase I'd still have time to do so. Interesting bands: Sopor Aeternus, Lacrimosa, and so on. So keep up the good work!
Jani Koskela, Succubus Records/Let Me Dream

I would like to tell you that you did a glorious and spectacular work, never before seen in a Portuguese fanzine. I really enjoyed Dark Oath #6! I also hope that you keep up the good work you've developed so far, with as much or even more quality than on issue #6. Let me know when the new issue comes out. This way I think my money was well spent...
Leopoldo Lopes

Thanks for the review. Wellwritten mag you have!
Samuel, Mental Destruction

The new Issue of Dark Oath Killz for sure. Great work (as always) my brother!! If you keep improving like this with every issue, you mag will be HUGE soon, + probably THE best mag out there!!
Odin Thompson, Moribund Records

Yes, we got the Dark Oath and it's quite a brilliant piece of dark art.
Necropolis Records

Congratulations for the #6.
Joseph, Opcion Sonica

I think it is one of the best magazines from Portugal, definitely.
Martin Koller, Prophecy Productions

It's great!!!!!!!!!!!!!!!!!
Pat, Red Stream

---
---
Click here for ordering information.