The existence of a conceptual backbone to the lyrics of Autumn Tears is quite evident. Is there a conscious effort to combine the moods and different twists of the story with the music or should each thing be able to stand on its own?
Ted •
Yes, the moods created within the music consciously reflect the events and emotions drawn from the lyrical content. The musical expression of the poems can strongly convey the feelings that I want to achieve with the story. Although each song is interwoven to create the overall feel of the story, the songs are meant to stand as separate structures, each with it's own theme. The newer material we are working will be an excellent example of musical variety in style for each song to truly stand alone while still being thematically linked and retaining album structure.
---
Were there any particular events that have taken place in your life that you find especially relevant to the story and has there been a conscious effort to include in it part of your own believes towards matters such as religion, death, love, etc.? In other words, how much do you identify yourselves with the characters portrayed in the story?
Ted •
Actually, the entire story is developed around my life and my emotions. The characters and events are fictitious of course, but the feelings are directly drawn from my own history of events and how they have affected me. I wanted the music and the lyrics to contain a true sense of tragedy taken directly from the sadness which I felt. To me it would be represented authentically in the music and not appear forced. The music is a reflection of the pain.
---
You mention the names of Dead Can Dance, Enya and 3rd and the Mortal as influential for the work developed on the debut; were these artists also relevant for the writing process of "The Garden..." and are there any others that you would care to point out in that sense?
Erika •
Everything we listen to is relevant. There will be an intro on a Black Metal CD with a certain sound that we like, or a passage in a soundtrack that inspires. Vocally, I'm constantly on the lookout for people who inspire me, who have a different way of singing, a way that opens my own mind to other possibilities I might not have thought of before. I myself paid a lot more attention to the structure of the classical music that I like and the way harmonies were used to enhance moods or change themes, and that helped me greatly, since I have a hand in the overall embellishment of the basic structures of the songs. I think one thing we did a lot was listen to contemporary stuff and say, "Okay, we don't want to do that. We want to avoid having that type of sound, that structure, because it comes across as unnatural or unpleasant".
---
Can you tell us a bit about the results, sales-wise, achieved by A.T. thus far? Do they come close to your expectations? Although you are in no way related to the Metal scene musically, the Metal market seems to have taken on A.T. quite well, isn't that so?
Erika • Autumn Tears
does very well. The first CD did better than we ever thought - we ended up pressing twice as many as we had originally planned, and they're almost completely gone now. "The Garden..." flew out the door when it was released in June. We've already repressed another 1,000, and plan to produce as many as 5,000. This is just what we expected, and we are very pleased and glad to know that so many people like our music. It's very cool that our music is popular with people who listen to Goth, Ambient, Death, and Black Metal. It has a rather universal appeal, which is fine with us. It's still an ego boost when you package up an order for a customer, and they're buying
Immortal
,
Marduk
,
Dark Tranquility
, AND
Autumn Tears
. It's been better than we ever hoped, when we first started the project.
How do you feel about the current crossover between Metal and the several other currents of dark music, nowadays not seen merely as sources of inspiration, but also as a market to be considered by Metal fans?
Ted •
I feel that it is only a natural progression for Metal. A lot of bands are incorporating both styles, but like anything, it is difficult to come up with an original sound, even nowadays with so many bands coming out incorporating different styles and concepts.
I know that you also have a Metal background yourselves, isn't that so? If so, have you ever considered applying some Metal elements to Autumn Tears? While we're at it, how wide is this project's musical playground, do you have a set musically path that you wish to stay faithful to?
Erika •
I'm very much a Black Metal person, but I have been into Metal of all forms since I was very young. It's very important to me.
Autumn Tears
, however, doesn't really need Metal elements for what we're trying to do. We want to keep that Neo-Classical feel, because there's a elegance and almost an arrogance one can achieve when using instrument settings like violins, organs, and brass. It's a challenge to see if we can create as much power with those sounds as one could create with guitars, bass, and drums. The whole theme is based around an idea of ancientness, anyhow, so it wouldn't make sense to add any instruments with really modern sounds.
---
---
• Autumn Tears "The Garden of Crystalline Dreams"
CD 1997, Dark Symphonies • 10 songs/48'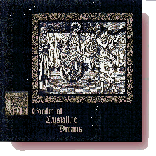 (slipcase box with 24 pages full color booklet)
$16US (USA) • $18US (R.o.W)




Official Autumn Tears Homepage