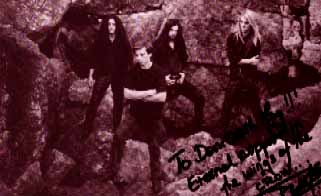 The release of Incarnated's 'Death Blessed by a God' promo back in 1993 introduced a young and promising band whose brand of slow and melodic Doom Death Metal was new to the Portuguese scene back then. That band have ever since renamed to Desire and the long awaited debut CD was finally out by mid '96. The interview with Flame follows...

(A small excerpt from the interview featured in full on Dark Oath #6)
---
It's been almost 3 years now since our last 'official conversation' concerning your musical activities, so I would like you to start by telling us a bit about what happened with the band from those early days up until now, not only concerning your evolution from Incarnated into Desire, but also about your development as musicians and individuals, was there any event in particular that has caused you to change your point of view towards music, for instance?
• Melancholic greetings Joćo! It is a pleasure for us to be featured in the pages of your excellent Mag. Yes, during the past years, many things happened concerning the band's life. As you know, and as some of your readers may know, after releasing the "Death Blessed by a God" promo-track as Incarnated, we went through several problems, which caused some delay in the process of composition of new material. Also in this period we changed the band's name to Desire and some line-up adjustments were made. Obviously we had enough time to develop as persons and as musicians during the last years since I personally think that we have grown as individuals and we matured our characters. In the past 2/3 years the musical scene changed a lot, but we never had any special concerns about that, because since the beginning, we have always known what the main root for our musical creations will be...
---
You have adopted heteronyms for your work as Desire, were any particular factors considered when choosing said heteronyms or was that a random choice? A few words concerning your new moniker and the choice that lead to its adoption are also welcome.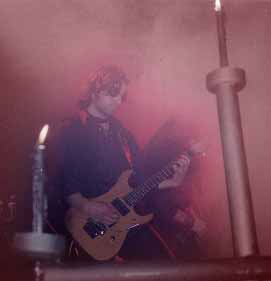 • In Desire, nothing is a fruit of casualty! Our music and attitude are a reflex of our true identities, I mean, through our creations we try to reflect our hidden true 'I' in a way that we couldn't express in our daily lives and share with such common mortals. The essence of our being is one of sad nature, that's why Desire is a negativist, melancholic and gloomy band. In virtue of all this, we looked for heteronyms that truly reflect our most real identities, which, combined with our lyrical approach, we could conciliate in a harmonious way, an ambiance wrapped in mournful feelings, without forgetting the poetic spilling...

---
While we're at it, is there any term in particular that you'd like to see applied to your music in order to describe it? What can you tell us about the term 'black as our emotions, sorrowful as our (he)art...'?
• We don't like to describe our music that much, we'd rather have others do it. Anyway, we think that there are several adjectives that fit Desire's music, such as dramatic, tragic, mournful or misanthropic Art for sorrowful souls... With 'Black as our emotions... Sorrowful as our (he)art...', we tried to combine several elements that represent the band in one sentence, such as the symbol (for more details, see answer 11), our views and thoughts upon ourselves, etc.. This sentence has a very special meaning for us...
---
There is a strong feeling of melancholy and depression expressed through your work, how do you relate to these things and is there something in particular that has pushed into this particular direction, or that has in some way urged you to express these feelings through your music? As one of the people involved in the creative process of Desire, and therefore closer to the band's essence, what other feelings do you get into and out of your music?
• The music of Desire reflects the hidden essence of all the musicians evolved, it is (like I said), the faithful transposition of our hidden 'I' to the music we play. Our vulgar state of mind is constantly connected with the bad sides of human feelings, that's why Desire's music sounds so depressive. In Desire we are inspired by everything that surrounds us, I mean, everything we feel, hear, or listen can constitute a direct or indirect influence for the band. Anyway, and speaking both for myself and for the band, I think the most important, and main influence to us, are undoubtedly our states of mind and personal feelings, which we try to faithfully transmit in a very poetic form through our creations.
---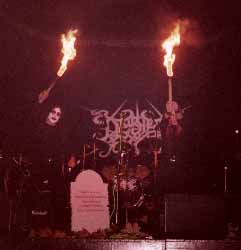 The concept of Death and all things connected to it is something that you have always been strongly connected to and the lyrics on "Infinity..." offer an interpretation of what lies behind death. To those who still have not had the chance to read those lyrics, could you sum them up shortly and it would also be interesting to know what lead to the elaboration of such an idea, I mean, is that something you have come up with or have you actually done some research on the subject?
• Our debut album "Infinity... A Timeless Journey Through an Emotional Dream" is a dramatic concept, whose story started in 1993 with the "Death Blessed by a God" promo-track, so, "Infinity..." is the development of that theme, that's why all the tracks are linked to each other, in order to try to give the listeners the same resemblance as if they were reading a book or watching a movie. We use to say that this dramatic concept work is like a setting-music book, metaphorically speaking, because it deals with this concept/story which has its focus on a main character or protagonist, a sullen 'I', whose soul is full of depressive and melancholic feelings that he carries with him after his death (accomplished on our promo), to a deeply dark and vehement dimension, which is lived by this human being through a dream, which has the Infinite as the limit... i.e., there is no limit... All this concept was created and developed by us, since we always had/have a very special attraction for this theme and we always tried to deepen it as much as we could/can.

---
The Crow Shelter
c/o Flame
P.O.Box 21.764
1138 LISBOA CODEX
- Portugal -
(for info only, please include $1US / 1 IRC)
---
• Desire "Infinity... A Timeless Journey Through an Emotional Dream"
CD 199CD 1996, Skyfall Records • 7 songs, 49'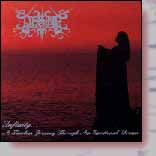 Desire's debut CD was eagerly expected by many fans in the Portuguese scene and quite honestly, as far as I'm concerned, it surpassed all expectations. One can say that they pioneered what is commonly known as Atmospheric Doom Death Metal in Portugal in 1993 with their promotrack "Death Blessed by a God", back when they were still known as Incarnated. On "Infinity...", they have not wandered away from the genre, but have improved greatly upon it. The addition of a full time talented keyboardist has done wonders to their music and has come to add a Gothic/Orchestral depth to it through the use of fine piano melodies or string arrangements that allow Desire to reach monumental proportions along with the weeping and sludgy guitar melodies, pounding drums and scorching deep throat vocals and their raspy, almost Black Metal-ish, variations. Impressive female vocals have also been used and again with remarkable effects on the intensity and overall grandeur of the album. Desire's music is as mournful as heavy music can get... It pushes and sways in march-paced rhythms, rapturous and enveloping... Until it bursts into quicker, moderate paced, epic and glorious momentos, whose arrival is as intuitive and delightful as that of an orgarm... Slow, deep and heartfelt. They reach inside of you and touch the strings of your heart and soul, and you will be able to touch theirs too and share the sorrow and pain that brings tears to their eyes. And tears derived from similar feelings will cloud your eyes too. A must to anyone into solemn and sad Atmospheric Gothic Doom Death Metal. Remarkable and memorable. Available from the band for 2700$0 (Por) • $20US (Eur) • $22US (R.o.W).
---
Official Desire Homepage:
Land of the Eternal Desires