Poetry of Shadows along with Isiphilon are two of the few outfits in Portugal involved in the Goth scene.
Both have had their brilliant debut albums issued through Symbiose not long ago and not only in order to find out more about both projects, but especially to give them the attention that they trully deserve, an interview was conducted with Oblivion, the master mind behind both projects, and Joćo Oliveira (where indicated), the bass player on Isiphilon.

(A small excerpt from the interview featured in full on Dark Oath #6)
---
How does a former member of a Death Metal band such as Thormenthor ends up on Poetry of Shadows, a band with a quite different musical scope? Was the idea of forming a different sort of band the main thing that made you quit Thormenthor in the first place?
• Well, I had to start somewhere when I started to play guitar, nowadays I also play other instruments as well, but the fact that I left Thormenthor had nothing to do with what I wanted to create. It is true that I wanted to try out something different, because I needed to do so, since things with Thormenthor were becoming rather dead. It was a cult band which appeared, it was good while it lasted, it still lasts even though I left, but it has absolutely nothing to do with what I'm doing these days.
---
Although the vast use of delay guitar effects might provide PoS a Fields of the Nephilim-oriented sonority, you have been able to go much further than that when it comes to the song writing. How would you like people to describe PoS, is there a particular genre within which you feel comfortable and were there any bands in particular that you see as important in your progression as a musician and that have in some way helped shape PoS' sound as well?
• In the beginning, I was not able to stay away from the Fields of the Nephilim sonority. I was heavily influenced by them, not by what they stand for, but mostly by the music itself. That shows much more on Poetry's demo "From Pain to Oblivion" than on the album. I have indeed strayed a bit from the original style and tried to resort to other influences, sometimes even by bands which have nothing to do with what we're about. I think I pick up sounds from a lot of places. Even bands from the 70's such as Sabbath, Deep Purple, etc.. No one can tell, but they're there. As for a label for our music... If you want to call us Goth, you can call us Goth, if you want to call us Metal, you can call us Metal. I do not avoid labels, any of them suits me.
As for Isiphilon, I think it's still something a bit new, it's a bit along the lines of the 4AD bands, like Dead Can Dance and Cocteau Twins, but it has Gothic Rock characteristics as well. Other than that, only time can tell. It might turn out into something completely different. If I was to use a label for it, I think I would choose Ambient.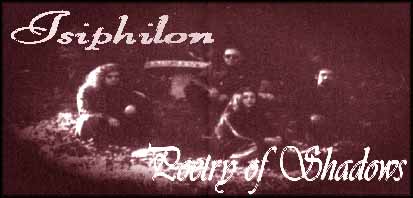 As you mentioned, there is another project parallel to Poetry of Shadows, Isiphilon, in which most of PoS' members are also involved. What are the main differences between PoS and Isiphilon, both musically and concept-wise, if any, and most of all, what lead to the creation of Isiphilon, given the fact that the line-up of both bands is quite similar?
• The project originally started as a proposal from our label. It sounded good and in the beginning it would essentially be based around female vocals in order to set apart Joćo Marques' male vocals that we use on PoS from Carmen's. The rest came along naturally, we're trying to add a more experimental and Ambient side to Isiphilon, even if retaining a more aggressive side in a particular song or two, and we're gonna focus the aggression more on Poetry of Shadows. It's quite likely that the next album will turn out much more aggressive than "Spheres of Knowledge", but we're still in the writing process so it's too early to tell, although it should be something like that, maybe with influences from Metal, Industrial, Doom, etc.. I should perhaps also mention that referring to us either as Poetry of Shadows or Isiphilon, and at least in my case, is not the most important point. The musicians are the most important point. It would be nice if people could get to know who Oblivion is, who Solitude is, who Joćo is (I still haven't mentioned his name in PoS, but it'll possibly be Misanthropy), etc. The musicians are the main thing here. There are two projects right now, perhaps some day there will be more and that's it...
---
What does the writing process of a song mean to you, I mean, do you see your work as a musician as a scapegoat for whatever it is that bothers you at the moment or what? It would also be interesting to know what inspires you and how intuitive your compositions are, do you have a pre-defined sketch of what you want a song to sound like when you start or do they take shape as you play along?
• Well, I must say that your questions often answer what I am about to say. The writing process is quite varied, although on Poetry of Shadows it tends to work more around me whereas on Isiphilon the work is developed by four people. The band was made out of people who have various relationships among themselves, especially friendship and therefore we know ourselves well, not only within the band, but also the world around us and the people we know. Therefore we can never leave out our feelings, at least as far as I'm concerned, and I suppose the other members feel the same way. There's love, there's hate, there's anger, there's revenge, there are feelings of loneliness, a bit of lots of bad luck as well, the whole fight that we had to take on to be able to push things onwards because it's a tough market and we do things because we like what we do and we don't worry about making money, but money is always needed to take things further and further. All in all, PoS, as well as Isiphilon, are above all a fight, our fight, and the relations which exist within the band and around us.
As for less orthodox methods of composing, that would perhaps be those we use, especially nowadays since we've come to know each other well musically. Usually someone has an idea or a small riff on their instrument and everyone later on complements it. Things are not always necessarily any deeper than that. There's a strong musical sense in everything we do and a concern to make things sound perfect in the end.
---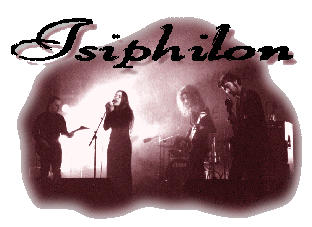 In the meantime though, the Isiphilon debut CD has been released not many months ago. Do you have any info concerning the feedback on this yet compared to the one you got for "Spheres of Knowledge", for instance? In your opinion, what are the album's strongest selling points?
Joćo Oliveira • It is quite hard for us to obtain a general idea of the feedback concerning the album, but at least as far as we can tell, and judging by the people that come over and talk to us about it, and there have been some, not many, but some, everyone has been quite supportive and some are even quite surprised with our music. In foreign countries, and also in very particular cases from people who have had access to recordings sent over, everyone has been quite impressed, especially because they are not expecting this sort of stuff from a Portuguese band. But whether or not this will become a huge success, we're not all that concerned, what matters is that we are doing something that we like and if we can make people listen to it and enjoy it, all the better. Isiphilon has a particularly strong point, since most of the work is produced by the four of us (as opposed to the work done with PoS which is done mostly by Oblivion), and that's the fact that through Isiphilon we are able to put forth our feelings in a much more 'universal' manner. It seems that people can relate closely to Isiphilon's melodies, at least that is what we've been told so far.

---

Symbiose
P.O. Box 347
PT - 2825 Monte Caparica
- Portugal -
---
• Isiphilon "Essence"
CD 1997 Symbiose • 12 songs, 45'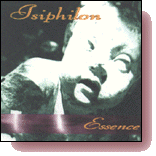 Isiphilon features several (better, most) members from Poetry of Shadows and given the fabulous work that "Spheres of Knowledge" unveiled, I was looking forward to this a lot as well. There is a similar 'essence' shared by both acts, but it is weaved in different ways between Isiphilon and Poetry of Shadows. Isiphilon are somewhat detached from typical Gothic Rock (although a stronger guitar presence on a track or two ('Circle of Gold' and 'Tremors', for instance) tends to set things in that direction as well) and are much more oriented towards ethereal and atmospheric Wave with an occasional reference to Cocteau Twins and even a dash or two of Dead Can Dance's ethnical invocations ('Calling the Flames'). The music is alluring, lulling, serene. Magic moods raised from swaying, spiraling, delay-ed guitars, rich, yet gentle keyboard orchestrations of fine taste and finesse, enveloping drum patterns and angelic female choirs, whispers and chants (often multi-layered) that at times shape to the music as if they were another instrument. There's a frail melancholy and beauty in the whole ambiance that the melodies build and it is all so tender and sweet that you can almost taste it in your mouth. Tragic indeed and even slightly grievous, but also so uplifting and caressing... It moves in gentle footsteps, delicately curling and dancing around you. This often becomes more than music when the different instruments fuse into a single flow of emotions. Superb and divine.
---
• Poetry of Shadows "Spheres of Knowledge"
CD 1996 Symbiose • 9 songs, 49'
I was simply dazzled and astonished with Poetry of Shadows' work. When I first saw the band live I was not familiar with their work but still it caused a great impact on me that evening. They manage to build, quite literally, a sea of wailing, echoing and delayed guitars with occasional Metallic twists which is completed with smooth yet very clear throbbing bass lines, enveloping, intriguing drum-machine percussion and sober, deep, at times guttural, male vocals laced with ethereal female chants. Both the guitar sound and the male vocals have a fair share of references to Fields of the Nephilim, but the guitar work itself tends to be more morose and elaborate than that of the aforementioned band. It is actually highly dynamic and original, ever changing, evolving and, most important, highly atmospheric and graceful. The ambiance is pretty dark and brooding, mysterious, spellbinding, but the female vocals come to add a divine and heavenly tone to Poetry of Shadows' very own Gothic Rock to which very discreet Metal and Dark Wave influences have been added as well. Personally, I love delayed guitar fingering and this band handle that in a skillful and immensely gifted and inspired manner. It must be said, however, that "Spheres of Knowledge" is hardly the kind of album that will stick in your mind with a single listen or two. Although it is by no means an album which is unpleasant or uncomfortable to bear, it is also not what you can call 'catchy' or 'immediate'. You can play it as background music many times and enjoy it simply like that. Or you can devote to it and be swept away in the sea of humming melodies and dreamy sounds. Personally, this is a characteristic which I love in music. Absolutely brilliant!