Lacrimosa's uncommon blend of varied musical genres has allowed them to create an unique style of their own. The lush orchestral arrangements of Classical nature are sheltered by Metallic guitars and drums and Gothic Rock imagery and spirit. Shortly after the release of "Stille", the band's fifth full length album, and after the German tour to promote it, I had a word with Anne Nurmi to find out more about the new album and the duo's plans for the future.

(A small excerpt from the interview featured in full on Dark Oath #6)
---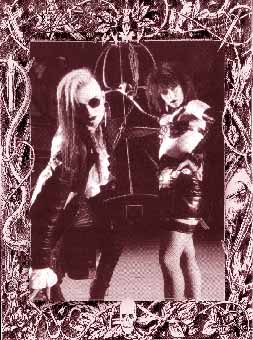 It seems that Tilo has started to compose music when he was still quite young (17, if my calculations are correct), how does he feel about those early compositions these days and how did the opportunity to create something like Lacrimosa came up, especially since he started out all alone?
• Yes, Tilo Wolff was about seventeen when his first songs came into daylight. His first idea was to "paint" music around the lyrics that he had been writing since he was very young. His first try at grounding a band was to write lyrics together with a friend and later make songs out of them, but shortly after they ended up in a small battle and separated without composing anything ready together. Being fascinated by the thought of being able to create music, Tilo didn't give up, but continued alone expressing his emotions with the help of different instruments. Especially the old recordings are very close to his heart as the experience of making music in the beginning was so strong.

---
Although perhaps most of the people into Lacrimosa come from the Goth/Dark Wave scene, the music itself is quite varied and full of other influences. What can you tell us about your personal tastes and musical education throughout your life? How do you feed off both in order to create your music?
• Our music is capturing influences from everything we do and listen to. It's happening unconsciously, it's like getting nourished without getting full. We listen to different kinds of music all the time, from Classical composers to Metal and really nearly everything in between. Lyrics are born in the most variable situations and as soon as the lyrics are ready, our mind and heart long to make songs to the lyrics. We both grew into music from very small on already so there is a very close connection. I guess we both couldn't survive without doing music.

---
"Stille", your latest album, is already Lacrimosa 5th full-length release. What would you say are the main differences musically between this work and the previous ones? How would you characterize the evolution of Lacrimosa?
• The earlier albums were darker and more pessimistic minded. It's normal to change your interests as you grow older and develop as a human. As Tilo was getting older and gathered more experience, the music was also developing with him. Situations were seen in a more positive light. The music is actually the best mirror to take a look into the past and the different situations that Tilo, and on the last two albums we together, were in. Nowadays the music has been getting quite varied like the whole surrounding system, we are into many thing at the same time but nowadays we see the light at the end of the tunnel and can take many things in a different way than what we did in the earlier days. We have learned to survive.

Much of the 'richness' on "Stille" comes from the arrangements and orchestral additions. How was the work on those arrangements done and how does the writing process in Lacrimosa takes place when it comes to that? Do you have things worked out before you go into studio or is that bit dependent on studio experimentation?
• The song writing process takes a lot of time as we are mainly spending 80% of our time taking care of the label, so there's very little time to concentrate in composing, which is sad. First we always do lyrics and later we compose the songs around them when we really feel like it. It's not that we would take time just to get songs, otherwise our music wouldn't be honest any more. We compose when the inspiration comes, may it be in the middle of the night or after watching an impressing movie, etc. The songs are always completely ready when we go to the studio, we don't compose any more in the studio. Of course it sometimes happens that we still change some arrangements, but basically everything has been composed from the first instrument, the drums to the orchestral parts. On "Stille" we were recording together with choir singers and a small orchestra (especially intensive with single players) and it was really fascinating to hear the music come alive through the players and the singers (It should be, that really shows on the album! - Ed.). Especially real instruments like trumpets and violin can change the whole atmosphere when they are real. Of course that it all takes a lot more time than just programming them on keyboard, but what can you do when we are perfectionists..
---
Is the music of Lacrimosa directed to any particular goal? What leads you to create music and how would you like people to think of it? Should they simply enjoy the music or should they seek for a deeper meaning in it?
• We are actually not thinking that far, we do music because we have an inner need for getting our emotions and experiences out in a creative way. We are not having the commercial thought behind making music in order to get rich. Our music is honest and as long as it gives us something we will continue to do it. We hope that it also gives as many people as possible a positive kick and makes them think or gives them hope to continue in desperate times, when they are more into melancholic music. That has also happened quite many times already as we get a lot of letters from that kind of experiences. And of course it also makes us happy if people just simply enjoy the music, though I don't know anyone who could just listen to our music on the background without really concentrating.
---
---
• Lacrimosa "Stolzes Herz"
CDS 1996 Hall of Sermon • 4 songs, 23'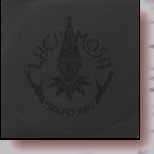 "Stolzes Herz" is the advance single for Lacrimosa's fifth full length album, "Stille", which was released shortly after. Two versions of the title track are included on the disc, an edit version, which is almost 3 minutes shorter than the one included on the album, and an instrumental piano version. 'Ich Bin der Brennende Komet' and 'Mutatio Spiritus' were also thrown in. Much of the disc is based around Lacrimosa's pompous orchestral/classical arrangements and piano lines, which are nothing short of majestic and huge. Metallic guitars and heavy drumming come to add punch and vitality to the title track without dispelling the epic and divine ambiance that the background choirs provide. Wailing oboes and Tilo's peculiar vocals complete the scenario along with the discreet acoustic guitar back-up. 'Ich bin...' resorts to a similar blend of Metal and Goth elements and again uses superb arrangements and orchestrations to lift things to a quality level far above average. My favorite pieces, however, are 'Mutatio Spiritus' and the piano version of 'Stolzes Herz'. The metallic guitars are dropped for these pieces to give way to strong and sober piano melodies, the first of which a rather tragic and melancholic one spawned out of a rain storm and haunted by ghostly female chants and desperate crying and the latter a soothing and also lightheartedly sad, yet hopeful and joyous, finale to the disc. Classy and indeed impressive.
---
• Lacrimosa "Stille"
CD 1997 Hall of Sermon • 8 songs, 71'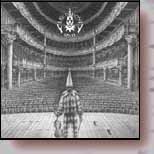 The epic proportions of "Stille" are simply astonishing. Lacrimosa's 5th full length album introduces the listener to a cleverly devised combination of lush and graceful Classical scores and hard-driven Gothic Metal. The complexity of orchestrations and arrangements is hardly paralleled in Rock music - pianos, oboes, trumpets and strings sections are entwined and intelligently fused to provide a tight and complex symphonic backbone to the music of Lacrimosa. Each of the various instruments has a life of its own yet each is part of a whole. Metallic riffing and pounding drums add a harsh tone to things without destroying its fragility or dismissing the ambiance whereas angelic choirs lift this to sublime dimensions as guitars indulge in semi-Progressive Rock or Hard Rock soloing. Melancholy and bitter-sweet faked joy surfaces on occasion from the majestic scenario, at times alternating with a controlled and classy genre of Metal-flavored aggression, but the music on the disc is most of all uplifting and even of strangely divine nature at times. Calm male vocals are contorted into demonic intonations and clean singing or balanced (in some cases, replaced) by sweet female chanting on a few songs. I am not quite sure what to add... I feel that no words would be enough for something this big. Bravo!
---
Official Lacrimosa Homepage
The 1. "Unofficial" Lacrimosa Homepage