This section will hopefully be updated on a monthly basis, the latest, so be sure to come back often!
To have information about your activities added here, email me with all relevant details.
Check the News Index page for a full index of Dark Oath's news archive online.

---
Page 1/1
News Index
[ «
Previous Page
| First Page |
Last Page
|
Next Page
»
]
---
• 1st October 1998 •


• The new Hard-Boiled MCD, "Mantis", has recently been released on Abstract Emotions' sublabel, Outrage. On the mother label and in early October, we will have the release of the new Asgaroth MCD, "Absence spells beyond". The label has also recently inked a deal with Symawrath (Symphonic Majestic Wrath), a Danish band formerly known as Majestic Midnight which will be recording their debut CD in march ´99. abstract@tising.es.

• Arcada Distributions has given birth to record label under the moniker Andromeda Creations. The first release was the "Evil" CD demo by Angrenost, a new band from the North of Portugal, who offer some brilliant Atmospheric/Orchestral Black Metal which will most likely please any fan of Emperor, Limbonic Art or Abigor. Certainly a pleasant surprise in the Portuguese Black Metal scene. The Sirius demo will follow and perhaps also Angrenost's debut full-length CD. For details, write kosmosis@mail.telepac.pt.

• Agony Records have recently released the debut MCD by Kraal, a French Thrash/Death band, entitled "Mutant". Agony Records also have a vast catalogue online with ridiculously cheap price rates and the 16th issue of their webzine has been launched recently (featuring Sword Master, Bethlehem, Gorgoroth, etc.)! Have a look at: http://home.nordnet.fr/~agony/.


• In the September/October period, Ataraxia will have no less than 3 new releases out. The first is "Historiae", on Cold Meat Industry's label for Medieval-inclined music, Cruel Moon Internacional, based entirely on ballads from the Middle Ages and featuring 6 studio tracks and 3 live tracks on lavishly designed, partially varnished disc-box slider, including a 12 page poster/booklet. "Orlando" is a 500 copies limited edition MCD for the French label Prikosnovenie (email the label at prikos@worldnet.fr for further info) on their 'Miniature' series based on the Virginia Woolf book by the same name, and finally, the deluxe Ataraxia box on Symbiose, which includes a live CD and Video recorded last January in Portugal and featuring 5 exclusive songs prepared especially for this event as well as a large booklet complete with photos and lyrics. The first two releases are now available, but there's a little delay with the box. Check this site for updates on that and have a look at the excerpt from the interview featured on Dark Oath #6. As for the "Lost Atlantis" album, the band are doing some new arrangements and adding new tracks for this release, which has therefore been delayed until mid 1999!

• "Praise the Archaic Lights Embrace" is the title for the new Aurora Borealis full length CD which the band have released not long ago. The flyer refers to this as 'Technical Death/Black Metal with blazingly fast blasts and melodic touches as well' and you can get it for $12US. Visit their website for more info, of course! http://www.concentric.net/~Neophil/AuroraBorealis

• Another set of quite interesting new releases on Avantgarde, as usual: Carpathian Forest's "Black Shining Leather", the debut full-length release for this cult Norwegian Black Metal band which includes an amazing cover from The Cure's classic 'The Forest', "Nightwork", the third album from Diabolical Masquerade, the Black Metal solo-project from the Katatonia frontman, Blackheim, featuring a guest appearance from Dan Swanö on drums (who was also responsible for the production, by the way) and the debut album from Raventhrone, a side project by Ray, keyboard player for the Austrian Pazuzu, which presents us some excellent Medieval-inspired Black Metal similar to the likes of Falkenbach on "Malice in Wonderland". Forthcoming releases include the debut from Doloriam, a Finnish Black Doom band in the vein of Unholy, Enochian Crescent's 2nd album, As Serenity Fades' follow-up to "Lumo", and the new album from the Italian band Deviate Ladies. For info, write greylife@tin.it.

• There's a new label rising for all you Doom freaks out there! Bad Acid (which is also a magazine) is dedicated to the 'advancement of heavy lysergic noise around the cosmos'. The first releases scheduled include Farflung's 4th album, Church of Misery's first full-length after their split CD with SHeavy, Burning Witch's debut CD and a new Electric Wizard Mini-LP, "Supercoven". Distribution will be handled by Plastic Head. Contact Bad Acid • P.O. Box 3123 • Poole, BH16 9YU • England for further details. More info as I get it!

• Not long after the release of their third album, "S.U.i.Z.i.D." (short for: "Sardonischer Untergang im Zeichen irreligioser Darbietung" and the band's most experimental work to date) on Red Stream, Bethlehem have released the announced new Mini CD, "Reflektionen auf's Sterben", again on Red Stream. This features unreleased tracks from the "S.U.i.Z.i.D." sessions, remixes, and a special live in the studio recording of a new instrumental track. The band has also started to write new material for their new album which 'will be a continuation of the Bethlehem style yet totaly different'. There are also "S.U.i.Z.i.D." TS and LS available! Check the Red Stream site for more info and, of course, don't forget to take a look at the excerpt of the Bethlehem interview featured on Dark Oath #6 on this site...
As some may know, Landfermann, who did the vocals on "Dictius Te Necare", has been dismissed and a replacement for him was found in Marco Kehran of Deinonychus (a female singer by the name of Cathrin Campen has also been added). The official Bethlehem statement regarding Landfermann's departure mentions personal differences and disagreements as well as some problems with the recording budget that Landfermann asked for using his studio for the recordings of "S.U.i.Z.i.D.".

• Blacklight Records have just issued a quite interesting comp. CD that covers much of what is being done within the Electronic realm, be it the dark, sludgy and slightly dancy Industrial tunes of Torn Skin, Jagged Doctrine or Paragon Null, the ambient textures of Dendography, Twitch, Blackhouse or Audio Paradox, Fatal Blast Whip's eerie Dark Electro, the almost mandatory for any Electro-verged comp. Depeche Mode-influenced acts like Evonica or even some harsh Noise/Power Electronics (light one, though...) from Anaphylaxis and Graphic Verses. Also present on "Collapsing Structure" (which is part 2 of the "Cataclysm Singles" 3-CD series box) are Liar's Paradise, M-Edge, Temple of the Times, New Society and Colossal Spin, the latter presenting a weird Trip-Hop/Ambient hybrid! Be sure to have a look at http://www.blacklight.com for more info!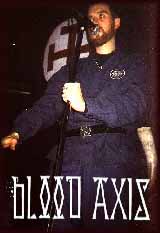 Blood Axis live in Sweden, November 1997.

• Blood Axis have a busy period ahead of them as well. The long awaited live CD recorded at the Cold Meat Industry 10th anniversary party held last November has just been released on Cold Meat under the title "Blot - Sacrifice In Sweden". The band are about to embark on a vast European Tour after a few shows in the US and are also working on material for their second full length CD. Here are the dates for the European tour:
• Paris, France -17th October (Central Industrial)
• Rennes, France - 19th October. (Thierry Jolif, Tel: +33 5 49 38 51 00)
• Madrid, Spain - 23rd October (Maldoror)
• Sintra, Portugal - 24th October, with Sangre Cavallum (Ananana). A second small performance in north Portugal is also being arranged, contact Ananana for details.
• Rome, Italy - 31st October, with Ain Soph (fenrir@iol.it)
• Prague - 5th November, with guests Allerseelen (Tom Novak)
• Vienna - 6th November (Aorta, Fax +43 1 49 53 482 or Petak • Postfach 778 • A-1011 Wien • Austria)
• Budapest - 7th November, with Allerseelen (scivias@hotmail.com)
• Munich - 14th November, with guests Allerseelen
• Hannover - 20th November
• Dresden - 21st November (for all German shows, contact Eis + Licht)
• Aarhus, Denmark - 27th November (Johan)
• Sweden - 28th November with Ordo Equilibrio (contact Cold Meat for up-to-date information)
• London - 11th December with Fire+Ice (Misanthropy)
• Ireland - 17th December with Primordial (Misanthropy)
• Belgium - 21st December (Grondwerken)
There are possibilities for further shows being added in Northern Italy, Switerland, Zagreb, and elsewhere... For further info on the tour, email the band at: blood@teleport.com. For more info on Blood Axis, visit http://welcome.to/bloodaxis.
In the meantime, the band have had a show in Seattle, WA cancelled. If all goes right, the show should be re-scheduled after their return from Europe, but in the meantime, here's an excerpt from an email sent out by Michael Moynihan regarding this occurence. Consult the Cold Meat Industry Mailing List archives and look for the full message or email me and I'll forward it to you.
'It would take pages to explain the whole saga, but in short through the efforts of a small band of "activists" who seem to have way too much free time, so much pressure was put on the nightclub and its employees through a week long campaign of harassment, that the club decided to postpone the show. (...)'
Pormenores sobre a data em Portugal: O espectáculo terá lugar pelas 21.30 do dia 24 de Outubro de 1998, Sábado, na Sociedade União Sintrense, sita na Rua Maria Eugénia Reis Ferreira Navarro, 7, em Sintra, e as portas do auditório abrem 30 minutos antes da hora indicada para o inicio do espectáculo. O bilhete está à venda a partir de dia 5 de Outubro na Ananana (Trav. Água da Flor, 29, Lisboa, tel.: (01)347 47 70) ou no local a 3000$00. Como referido acima, há possibilidades de um segundo concerto no Norte do país, contactem a Ananana para mais detalhes.

• Although somewhat delayed due to problems with the CD pressing plant, the Swedish old-school Death Metallers Sarcasm's CD due out on Breath of Night will soon be unleashed. Following this, we will have the debut CD from Negura Bunget, a Romanian Black Metal band. Visit http://www.iki.fi/~mega/BoN for extra info.

• There are a bunch of new releases out on Cold Meat Industry since the release of Dark Oath #6: the Blood Axis CD which I mentioned just above, Brighter Death Now's "Greatest Death", a sort of 'best of' compilation off the "Great Death" trilogy, put together from the votes of those who submitted the forms found on the third part of this trilogy, and the re-release of the "Pain in Progress" tape, originally released in 1988 and re-released in 1990 on LP which features some extra tracks from that same period previously found only on smaller comp. tapes and LPs, Cintecele Diavolui's "Devils songs" digipak CD, the re-issue of this Mortiis side project, originally released on Dark Dungeon Music, Ordo Equilibrio's "Conquest, Love & Self Preserverance", which includes 11 new songs as well as remixes (?) of 'In the grassy fields, where the world goes to sleep...' and 'The perplexity of Hybris...' and to which Thomas has refered as 'spiritually, esthetically and sexually inclined towards that of "Reaping The Fallen...", but still incorporated of a coequal magnitude of acoustic songs to that of "the Triumph of Light...". Conclusively making it our most complete working altogether', a 500 copies ltd. edition LP from Projekt HAT, the 2nd album by the controversial duo Puissance, "Back in Control", Raison d'Être's "In Sadness, Silence and Solitude" (there's a new website for the band and its various side projects at: http://home9.swipnet.se/~w-90779/index.htm), a 1000 copies limited edition Sanctum 10", featuring 4 news songs (one of which also included on the "Absolute Supper" compilation CD) and of course the brilliant double CD compilation "The Absolute Supper" (probably my dearest Christmas present last year... thanks, Captain Karmanik! hehe).
On the Death Factory side label, we have Slogun's "The Pleasures of Death" and Sutcliffe Jügend's "When Pornography Is Not Enough", two well known projects in the harsh Industrial/Power Electronics scene, plus the aforementioned new Ataraxia CD on Cruel Moon.
A new catalog has also just been released, featuring interviews with Thomas of Ordo Equilibrio and John of Slogun and an article on Swedish Noise featuring Proiekt HAT, Blod and Bad Kharma, plus a mail order section with over 1500 articles (including Dark Oath Magazine, of course!). And although it's been a while since the website has last been updated, Captain Karmanik has recently announced that they intend to do something about that sometime soon. In the meantime, and until the year folds, there should be a new MZ.412 album out, as well as a new Brighter Death Now double LP, "May All Be Dead", and the eagerly expected The Protagonist "A Rebours" debut CD (check the band's website in the meantime at: http://protagonist.coldmeat.se). www.coldmeat.se

• Following the release of the "Souvenirs From Hell" compilation CD featuring exclusive tracks from Ulver, Blood Axis, The Electric Hellfire Club, Empire 44, Diabolos Rising, Peter H. Gilmore and N.A.O.S., Cthulhu Records will be releasing new albums by A.C.T.U.S. and Coup De Grace. Email them at Ernten@aol.com for more details.

• After a long break due to some line-up changes within the band, the Czech Dissolving of Prodigy have released their second album, "Time Ruins Also Beauty", last Sept. '98 on Sheer Records • P.O. Box 17 • 733 06 Karviná Hranice • Czech Republic. The album is available on CD (22DM/$16US) and MC (10DM/$8US) and there are also T-shirts available (21DM/$15US). The flyer refers to it as '60 mins of very slow and chilly gloomy music, enriched with violin and flute' and although I have not heard it yet but judging by the high quality Doom Metal releases that the Czech scenes has offered in the past (I'm recalling Love History and Forgotten Silence, for instance), this should be quite interesting. The band can be reached through Veronika Sedláiova • Zelend 69 • 709 00 Ostrava • Czech Republic.

• Eibon Records seems to be growing quite fast. This is certainly one of the most interesting and diverse labels these days! The 2nd Canaan CD, "Walk Into My Open Womb", is now completed and should be out anytime now following the release of I Burn's CD (noisy Dark Ambient, somewhere between Brighter Death Now and Lustmord). Le Masque and Esoteric will follow before While Heaven Wept and Seigmen. Cooperations with with the label Amplexus for Temps Perdu?, Solitaire and Mathias Grassow are also planned. http://www.thais.it/eibon

• UK Pagan Goths Inkubus Sukkubus will have a new album out in October. This limited edition CD, entitled "Away with the Faeries" and released on Resurrection Records, features 6 new studio tracks, along with 9 songs recorded live at the Axiom Centre in Cheltenham in April '98. Shortly after a recent appearance at the Vampyria II Festival in London, the band will embark on a U.S. tour during October and November, followed by a return performance at the Annual Pagan Federation Conference in London. Have a look at their official web site for more info at: http://wkweb5.cableinet.co.uk/sukkubus/inkubus.htm

• Judas Iscariot's 4th album, "Distant Into Solitary Night", is due out soon on Moribund Records. In the meantime, Akhenaten is also planning the recording of this raw Black Metal act's 5th album, for release on Elegy Records, which this time might take place at a professional studio. Akhenaten assures us that there will be no 'Life Metal production here. Only grim unholy sounds!!' though! http://www.iki.fi/~mega/JI.


• Several years after the release of their debut CD "My Dear Succubus" on Adipocere Records back in 1995, the Finnish band Let Me Dream are back with a new mini CD, "Medley Rain", on their own label, Succubus Records. Like the press-release states, the band move somewhere between Gothic/Dark Pop/Metal experimentations, achieving quite peculiar and original results with their music. Following the release of this MCD, the band's keyboardist Jari Koskela has directed a video for the title track which has been played on a Finnish music show and which the band are eager to spread further. For more info, take a look at their site at http://www.mygale.org/11/gore/LMD.html or email Jani through wolfborn@freenet.hut.fi.

• After some delays, the Mayhem video from the band's come-back show recorded last year in Germany is finally out on Misanthropy Records. The "Live In Bischofswerda" Video includes classics such as 'Funeral Fog', 'Carnage' or 'Deathcrush' as well as newer songs like 'Fall of Seraphs' and 'I Am Thy Labyrinth' in a total play-time of 40:20 minutes. Although the sound quality is somewhat defficient, the visuals are quite excellent and include some extreme footage from frontman Maniac cutting himself up. The band's new album, "A Grand Declaration of War", is due for release in the course of 1999.
Other recent Misanthropy Records releases include the fine new Babylon Whores 30 min. MCD, "Deggael" (complete with a CD-Rom video from the track 'In Arcadia Ego' from the band's debut full length "Cold Heaven"), a surprisingly refreshing and melodic release on the Heroine side-label, a new In the Woods... 7"EP, "Let There Be More Light", the second in a 7" trilogy initiated with the release of "White Rabbit" some time ago. This includes the title-track (a cover-version from a Roger Waters original) and 'Child of Universal Tongue', the Hagalaz' Runedance debut CD, "The Winds That Sang of Midgard's Fate" (on Elfenblut), Primordial's "A Journey's End", the band's excellent follow-up to their "Imrama" debut released back in 1995, and finally the eagerly awaited "Presumed Guilty" label sampler, featuring 14 songs (most of which found exclusively on this compilation) along with notes and photos from all the bands included, namelly Dream Into Dust, In The Woods..., Solstice, Hagalaz' Runedance, Primordial, Burzum, Amber Asylum, Babylon Whores, Madder Mortem, Mayhem, Beyond Dawn, Endvra, Aphrodisiac and Monumentum. This is a low price release which should cost no more than £7.99.
Forthcoming releases include the second Solstice album (Autumn 1998), a re-issue of the complete Burzum back catalogue on 1000 copies limited editiion picture-disc LP, Dream Into Dust and Madder Mortem's debut CDs (the latter a recent addition to Misanthropy's team which on the track presented on the sampler CD sorta bring to mind traces of Fleurety or Ved Buens Ende but with a totally different overall result), and new albums by Ved Buens Ende (apparently Carl-Michael, Vicotnik and Skoll decided to get back together for a new album!!), Monumentum and Babylon Whores (in early 1999). A video for Burzum's "Daudi Baldrs" is also in preparation by cooperation between Varg Vikernes and Annabel Lee (Blood Axis/ex-Amber Asylum) and the label's website will soon be up and running again. Misanthropy Records • P.O. Box 9 • Hadleigh • Suffolk IP7 5AU • England. Email: amazon@msanthr.demon.co.uk.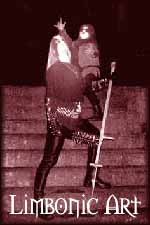 • Nocturnal Art Productions has just issued a new Limbonic Art CD, "Epitome of Illusions", featuring a selection from the band's old material from their two rehearsal demos and the promo-tape released on NAP which anticipated "Moon in the Scorpio" re-recorded especially for the occasion. The picture-disc edition will be limited to 666 copies and includes an exclusive bonus track (contact Merciless Records • P.O. Box 72 • 97448 ARNSTEIN • Germany for further info). Merchandise for this release will also be available soon. Limbonic Art are currently preparing material for their 3rd album, which is to be recorded by mid 1999 and again released on Nocturnal Art. Nocturnal Art has also recently released Odium's "The Sad Realms of the Stars" - fine Black Metal not that different from the likes of Emperor or Limbonic Art. http://home.sol.no/~nocturne/nap.html

• The almost legendary Italian label Old Europa Cafe has a quite busy release schedule for the coming months: Endvra "The Watcher" CD (Ltd. to 1000x), This Morn' Omina "Nezeru Enti Sebauem Neterxertet" CD (Ltd. to 700x) and Exotoendo "Endorcism Process" CD (Ltd. to 500), these first three being part of the recent 'Esoterika' series initiated some time ago with the Hybryds/Nebulon "Clavis" and TAC "Apotropaismo" CDs and focused on more 'esoteric, shamanic & visionary releases', and following OEC's Industrial tradition, also in a new series of releases titled 'Industrialia', we will have Negru Voda "Dark Territory" CD (a Megaptera side-project!, Ltd. to 500x), a Brume/Vrischika split CD (Ltd. to 500x) and finally, Aube "108" CD (Ltd. to 801). Visit their website at http://www.stack.nl/~bobw/music/OEC/ for more info and an online catalogue.

• Following the release of Tyrant's debut CD, "Under The Dark Mystic Skies", and Satariel's "Lust Lady Lilith" (out in mid September), Pulverized Records are still hoping to release the debut CDs by Imperial Domain (elected for Close Up magazine's Top 3 unsigned Swedish bands poll along with Satariel), Deathless and Unmoored, the 3rd Thy Primordial album and the new Eternal Oath CD in the course of 1998. For info, ashes@pacific.net.sg.

• The French band Rosa Crux have recently released a CD+ featuring 10 new songs and a CD-Rom section with 12 videos, 415 photos, 49 sounds & music. The band have a vast catalogue of peculiar merchandise available, so be sure to check their website for further info. http://www.worldnet.net/~rosacrux.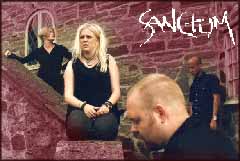 • Sanctum seem to be quite busy, as usual! Along with the aforementioned 10"EP, the band are preparing their second album at Crescens Studios. Then there's the Azure Skies project, where members of Sanctum and Mental Destruction cooperate, and which will be appearing on the "Machines in the Garden" Compilation issued via Blacklight Records, and The Year Of The Parrot, where Hakan, Jan and Klas Melman, the band's live soundengineer, have grouped up to explore harsher and more brutal soundscapes. Jan, on the other hand, will also be releasing a 45 minutes long composition, which he refers to as 'slowindustrialamient-neuclassic music'. They have also completed work on their excellent website which can be found at http://sanctum.coldmeat.se...

• Tortura have recently released their "Bitter Tears" debut demo (reviewed on the printed edition of Dark Oath #6) on CD format, featuring not only the 4 tracks present on that demo, but also their first promo track, 'Cromm Cruac', and 'Voices from the Abyss', a new song recorded for this release. This new edition sells for 1000$00 + 155$00 (em selos). I have no info regarding prices for foreign orders, but you can always contact the band through: Luis Filipe • Rua da Nortecoope, 81 • Gueifães • 4470 MAIA • Portugal or visit their official website for more info at http://www.terravista.pt/mussulo/1665. The band are currently signed to Shiver Records and the release of their debut CD should not take long...

• Twilight Records are preparing an all American Iron Maiden tribute compilation to be titled "Maiden America" and due for release in the Fall of 1998. Here's the tracklist thus far (still subject to revision): Pharaoh - 'Aces High', Omen - 'Murders in the Rue Morgue', Final Prayer - 'Killers', Tchort - 'Number of the Beast', Born In Fire - 'Remember Tomorrow', Burning Inside - 'Genghis Khan', Deceased - 'Powerslave', Dawnbringer - 'Heaven Can Wait', Sadus - 'Invaders', Edenrot - 'Hallowed Be Thy Name' and Sculptured - 'Iron Maiden'. This project will include a second CD, featuring an original track from each of the bands present on the tribute (certainly an excellent idea, might I add). Furthermore, an official live Deceased album will also be recorded soon for Twilight Records. Email: wom_tw@ccil.org.

• Virtualma, a Portuguese Dark Wave/Industrial trio, have just released their self-titled and self-financed debut CD. They've been around for about 3 years now and after some demos and an increasing label interest, the band have decided to release this 14 song CD which brings to mind bands like Bizarra Locomotiva (although in a softer tone) or the French Eros Necropsique. For further info, contact the band through Virtualma@hotmail.com and be sure to check the next issue of Dark Oath for a complete review of this release.

---